Recon was at CactusCon 11!
We had the absolute pleasure to attend CactusCon11 this year which is easily one of our favorite smaller infosec events. Not only did we run a booth this year, but 4 of our team members gave some exciting talks on a variety of topics. In addition, we ran a DFIR CTF for participants looking to test their digital forensics skills.
Check out the talks our team gave at the event!
Andrew

(Track 1, Day 1) - Will AI Take My InfoSec Job? Exploring interesting AI use cases

Marcus

(Track 1, Day 2) - Is Dead Memory Analysis Dead? Finding Infected Systems through Live Memory Analysis

Eric and Whitney

(Track 3, Day 2) - Security Operations with Velociraptor
We also snagged a screenshot of the DFIR CTF scoreboard: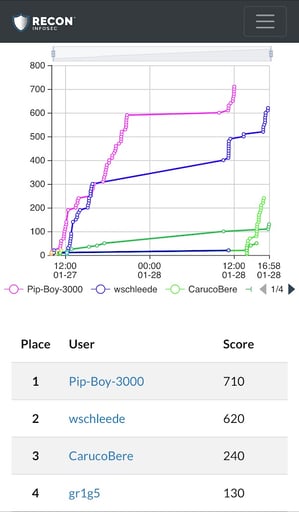 Thanks for having us, CactusCon! We hope to see you all again next year.